As you may remember I had a canvas prepped for my UStream last month to save on "Dry Time", which worked out great! But let f me with a panel already prepped for a project that I have already created twice! But you know I couldn't let it go to waste so I grabbed my Colorations and started laying down some amazing color!
After my first layer of color was done I could see a new project coming to life, so I grabbed a bunch of scrap chipboard and started clipping and arranging it on my panel.
With all my flourishes glued in place I applied a rough coat of
One more layer of Colorations (Glorious, Juicy & Hottie)
After my mist dried I decided I really wanted my flourishes to pop,
so I grabbed some

Black Leather Jacket (

Sorbet) and started painting away.
After adding some finishing touches my panel was complete!
Thank you so much for stopping by today!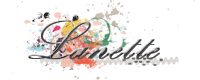 Art Anthology Products Used: Gesso, Sorbet -

Black Leather Jacket, Colorations Spray

Glorious, Juicy & Hottie.